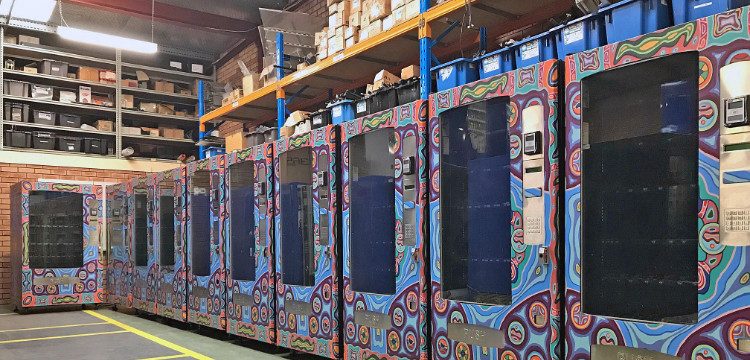 The popular saying: "You get what you pay for" holds true with most things in life. And whilst we all love a bargain, somewhere in the back of our minds we know that when we pay much less than we expect, there's a good chance that in the not so distant future, it may come back to bite us. Does it make sense then to buy refurbished vending machines, especially when you can get a new one from countries over East for less?
Another equally true saying applies here: "Do not judge a book by its cover". As with people, it matters what's on the inside. With the influx of cheap look-alike vending machines, newcomers to the vending arena are often deceived by vending machines that looks very similar to trusted brands that has been in the market for years.
Are all vending machines from China then low quality? Not at all! Some brands have been in the Australian market for many years and have proven themselves to be reliable, trustworthy and yielding its owners a great return on their investment. So how would you know? The real differentiator is what's not visible to the end-customer or the operator – but to your technical and maintenance service provider when they open up your vending machine when it breaks down.
3 Important Questions to Ask Before Buying New or Refurbished Vending Machines
Is my machine repairable? This is the first and most important question to ask. If not, know that all risk lies with you and you may end up dumping your newish vending machine at the local recycling centre.
Are parts for my machine readily available? Downtime not only impacts your revenue, but also your reputation. Buy from a local supplier who have parts in stock and can get your machine functioning again in a short time.
Which supplier should I choose? Choose your supplier carefully as they will become an important part of your business. Make sure your supplier:

stocks parts locally
have the technical expertise to service your machine,
are local,
offers a product warranty, and
sees and treats you as a business partner rather than simply a customer.
When would buying a refurbished vending machine makes sense?
A few things to consider:
Price – refurbished vending machines provides the opportunity to get a quality vending machine with a lower price tag. But keep the bigger picture in mind – it's about so much more than the upfront investment cost.
Warranty – if the refurbished vending machine comes with a parts warranty, it means the supplier is serious about support and that they will most like stock parts locally.
Location – if the vending machine is going to a construction site, you would think twice to pay top dollar for a brand-new machine if you can get the same functionality from a refurbished vending machine.
Quality brand – there are good quality refurbished vending machines out in the market. Do your research and speak to a trusted supplier who has been in the vending industry for many years and be prepared to pay for the outcome you want.
Give us a call and we can help you choose or come and visit our showroom. We have several refurbished vending machines and brands available that can be customised to suit your needs.