Cashless Payment Solutions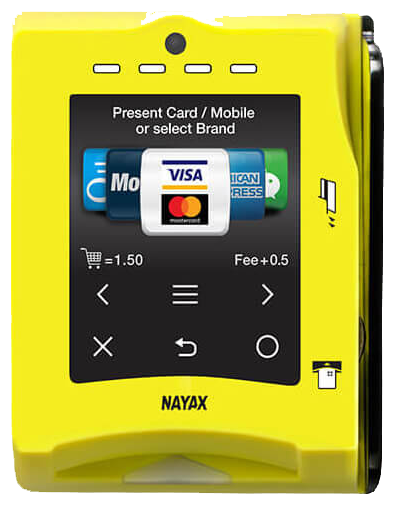 Cashless Payment Solutions, Credit & Debit Cards
---
Vendpro offers cashless payment solutions using a global brand credit and debit card payment options as part of our cashless/ EFTPOS™ payment solution portfolio. These complement our coin and note acceptor/ validator payment systems. Our cashless solution accepts mobile, SMS and NFC payments, all credit and debit cards brands that are swipe, contact or contactless (i.e. pay-as-you-wave), as well as prepaid cards. It offers eReceipts to show consumers their purchases. It also offers dynamic pricing allowing operators the option to pass the convenience fee along to the consumer.
Note: It is confirmed that a cashless solution now delivers the best return-on-investment (ROI) for any single investment option on a vending machine – latest research shows that e.g.:
64% of customers now prefer to use a cashless card rather than cash.
The average spend per transaction increases by 33% (from US$1.21 to US$1.60) over cash.
On average, 38% (and even as high as 50%-75%) of sales were cashless! The trend in increasing cashless sales only seems to increase year-on-year.
Source: Cantaloupe Systems Report – Nama OneShow April 2017
Download Brochures Below
Cashless Card/ Token Solutions
---
Vendpro installs proven and state of the art cashless payment systems to suit your need e.g. payment by means of staff identity card readers, fobs etc. Typically, these cards are unlimited account/ pre-loaded value cards or credit/ debit cards that alleviate the need for cash and coins for on-the-spot transactions. Our solutions work with most cards technologies such as Mifare™, DESfire™, magnetic card strip etc. More advanced implementations can work in parallel with canteen point of sale systems, compatible with staff access cards/ tags/ keys and can be customised to work with existing employee card and access systems. Please enquire about these.
More specifically, PPE Vending Machines are a solution for some worksites with the necessity of providing personal protective equipment and safety supplies to staff and contractors alike. These machines can be setup wherever there is space and a need for personal hygiene products, managed remotely and stocked locally. Find out more about PPE Vending Machines here.