Corporate Vending Solutions, Remote Monitoring, Inventory Control & Management Tools & MicroMarket™ Retailing Solutions
---
Our innovative corporate vending solutions offer you cost effective options whether it means retailing drink, snack and food items or dispensing of consumable goods such as PPE or safety articles, first-aid items, toiletries goods, stationary articles, bar / liquor products, tools, or spare parts, across a myriad of sectors including Education, Hotel & Bar, Mining, Oil & Gas, Corporate, Public & Private Sectors, OH&S (Safety Station), Hospitality, Food & Beverage.
Vendpro offers you cost effective corporate vending solutions to your inventory and compliance management challenges. You get improved real time monitoring capability with our remote monitoring vending system, which allows better control and easier compliance whether your aim is to reduce costs, manage usage of consumable goods or to achieve Occupational Health and Safety (OH&S) objectives.
We provide a range of cashless payment inventory control / management solutions to suit every need and budget. Examples of these include:
Stand-alone no traceability of usage such as when vending in the catering and hospitality environment.
Integrated to a variety of facilities management systems secure, full issue customisable report / traceability of consumable products issued e.g., controlled issuing of PPE in safety station vending machines, stationary, bar / liquor etc.
Self-checkout secure micro market vending and retailing opportunities e.g., advanced vending functionality in corporate crib / break / lunchroom applications etc. Australia's licensed provider of 365 Micro Market solutions.
---
TCN PPE Vending Machines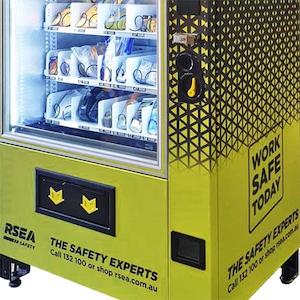 TCN is the world's second largest vending machine manufacturer. Exporting machines to more than 100 countries in America, Europe & Asia, it has one of the biggest vending machine factories in China covering more than 100,000 square meters.
TCN supply quality vending machines and solutions that offer advanced embedded electronics utilising VisualVend technologies. TCN vending machines' advanced vending motor capabilities support coil and conveyor belt as well as lifter dispensing options. TCN Australia's PPE unattended corporate vending solutions include PPE & industrial vending machines complemented by integrated smart pickup and return locker box systems.
The TCN Difference
TCN vending machines can be customised to vend almost any PPE/industrial item to meet the specific nature and requirements of most industrial sites. TCN locker boxes allow storage and issuing of a range of larger and expensive industrial equipment such as hard hats, industrial drills, and associated equipment; even boxes of widgets where a user's usage can be limited to a maximum number of widgets.
TCN Vending Australia, in collaboration with several global vending manufacturers, developed VisualVend@Safety™, after conducting extensive research and development in the vending and unattended retail markets in Australia and abroad
VisualVend@Safety™ is the world's first purposely built Vend2End Asset Tracking Software platform specifically designed in Australia for the personal protective equipment (PPE) & industrial sectors for vending in unattended environments. The VisualVend software tool (a platform designed for unattended vending requiring a vending machine to operate), was developed by Enabled 2 GO Technologies – a cc2GO Group Company – specifically for the vending industry. The Group has been in vending telemetry, payments, wearables, and mobile/telecom communications for almost 20 years.
This proven solution has helped address industrial and safety equipment supply in unattended locations and has positioned TCN Vending Australia as one of the fastest growing PPE vending solution providers in Australia and New Zealand.
---
PPE Vending Machines
PPE Vending Machines are designed to dispense a wide range of personal protective equipment and safety supplies to staff and contractors alike. These machines can be setup wherever there is space and a need for personal hygiene products.
The PPE Vending Machine management system can issue emails or text message status warnings for events such as 'machine empty', 'no sales within a defined period', 'selections empty', 'machine offline' and more.
These machines are smart machines meaning they are cashless, utilising an allocated FOB or card to access the items. Purchase details are then saved against that specific employee or contractor's card for ease of cost allocation. See full range here.
Restocking is done by the staff or contractors onsite as and when required. A stock report is generated using the online web-based system advising of the 'real-time' stock levels and what items need replenishing. This same system manages the administration, inventory, card holders, vending history, cost allocation, daily sales, daily product sales, usage invoice and all other reporting. These can either be viewed on-screen or exported from the system in PDF or CSV file format. Report breakdown includes:
Product list: A categorised list of all the products up-loaded on the system. Customer product numbers corresponding with the customer's current inventory control system are allowed.
User card holder report: Each FOB holder can be limited to a pre-set daily and/ or total spend. Also, FOBs can be assigned to different user types e.g., staff, contractors or visitors. This allows generation of user reports by FOB type and/or by FOB assigned to different user departments/cost codes.
Vend history report: A report showing every transaction made during a defined period. For example, reporting includes details on the machine, card holder, product description, units taken (one item per vend), the transaction amount and date and time of transaction. Reporting is totalled for units and dollar value dispensed. Reports can be exported in CSV-format and manipulated by means of excel pivot tables etc. to total sales by FOB holder etc. Reports can be auto emailed to customer representatives on a pre-determined frequency e.g., weekly, monthly, quarterly, or annually.
Cost allocation report: A report tracking the job number that an item has been expensed to (used for customers who want to share the cost of the item with their end-user).
Daily sales report: A report showing the total units dispensed and their dollar value by days for a specified period.
Daily product sales report: A report showing daily sales / vends by product for all products in the machine.
Re-stock report: A report showing the number of products required to re-fill the machine at the time the report is created.
Sales report: A report summarising by product and dollars of everything sold / dispensed from the machine for a specified period.
Weekly invoice for usage by user / employee: A Report showing the total spent on each FOB for the week. It also reports a balance of the total "credit" on all the FOBS both individually and combined.
There are many benefits to having a PPE Vending Machine on site and some of these benefits include: personalising the items stocked, it's fully automated and secure, no stock on hand to worry about, zero wastage and always being on-top of stock availability. It's a machine almost every work site needs.