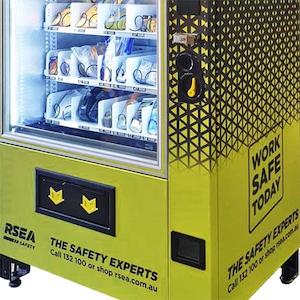 When it comes to an experienced vending machine provider, they are the world's second largest manufacturer. Exporting machines to more than 100 countries in America, Europe & Asia, including Australia, with one of the biggest vending machine factories in China covering more than 100,000 square meters. And now, TCN PPE Vending Machines are ahead of the rest.
TCN supply quality vending machines and solutions that offer advanced embedded electronics utilising VisualVend technologies. TCN vending machines' advanced vending motor capabilities support coil and conveyor belt as well as lifter dispensing options. TCN Australia's PPE unattended corporate vending solutions include PPE & industrial vending machines complemented by integrated smart pickup and return locker box systems.
Now that's quite impressive, but there's more….
TCN have taken technology one step further to meet the specific needs of PPE and industrial item requirements.
TCN Vending Australia, in collaboration with several global vending manufacturers, developed VisualVend@Safety™, after conducting extensive research and development in the vending and unattended retail markets in Australia and abroad.
VisualVend@Safety™ is the world's first purposely built Vend2End Asset Tracking Software platform specifically designed in Australia for the personal protective equipment (PPE) & industrial sectors for vending in unattended environments. The VisualVend software tool (a platform designed for unattended vending requiring a vending machine to operate), was developed by Enabled 2 GO Technologies – a cc2GO Group Company – specifically for the vending industry. The Group has been in vending telemetry, payments, wearables, and mobile/telecom communications for almost 20 years.
So, what does this all mean and how does it benefit you?
Well in short, TCN vending machines can be customised to vend almost any PPE or industrial item to meet the specific nature and requirements of most industrial sites. Their locker boxes allow storage and issuing of a range of larger and expensive industrial equipment such as hard hats, industrial drills, and associated equipment; even boxes of widgets where an employee's usage can be limited to a maximum number of widgets.
This proven solution has helped address industrial and safety equipment supply in unattended locations and has positioned TCN Vending Australia as one of the fastest growing PPE vending solution providers in Australia and New Zealand.
Come and see this amazing new technology at Vendpro or contact us for more information.

You can also download our factsheet here.