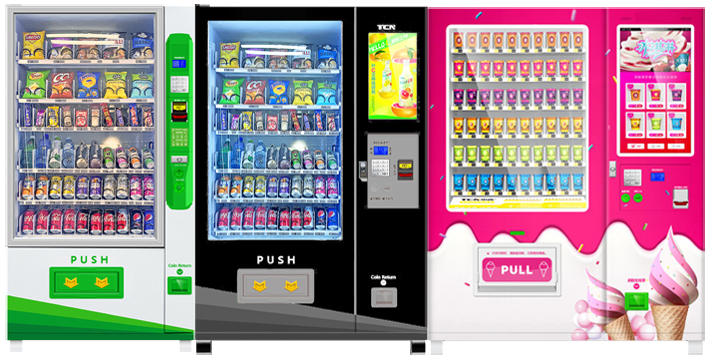 NEW TCN Machines available at Vendpro in Perth
Choosing a quality vending machine from the wide variety of brands and models available today is quite the challenge, and it doesn't stop there. A number of factors need to be considered before you even reach the stage of choosing a machine. Do you have a site, what size is it, what's the demographics, are there other vending machines or food outlets in the area? It's a whole new conversation and all the many things to think about before you get to choose the type of machine you need and would like to operate.

Combing quality and value for money is often a big ask, however at Vendpro, you can rest assured we have you covered. You see, not one shoe fits every foot – the same with vending machines. Not one type will fit every need, so we have a number of options to help you decide. And, as TCN's approved distributor in Perth WA, we're excited to announce that TCN's latest range of drink and snack combination machines have landed at our office this month. Brand new, affordable and supplied locally – how good is that! New to this game? Read on for a little more about TCN.

Who is TCN?
TCN, a national high-tech enterprise as well as a national import & export enterprise, specialises in providing high quality vending machines and self-service retail system solutions.
With its goal to be a "world-class vending machine and brand enterprise", TCN has become a large scale vending machine manufacturer in China for the past 18 years. With its innovative design, advanced technology applications and excellent performance, the company has developed and produced a series of products, which have been used in more than 100 countries and regions worldwide.
TCN's credentials include being the vice-president unit of the CCAGM China Vending Association, the vice-president unit of the Asia-Pacific Vending Association, a member of NAMA, and a member of EVA. With branches in Australia, Singapore and Guangzhou, TCN is determined to become one of the best vending machine suppliers in the world. Find out more here.
TCN's presence in Australia – On the East Coast and in Perth
TCN's wide range of quality vending machines is available to customers anywhere in Australia – from the traditional combination and drinks series machines to more specialised Frozen, Coffee, Touch screen and Elevator series machines. See the range here.
TCN Vending Australia aims to work with businesses and organisations that would like to sell and dispense products to their staff or potential clients, offering customised and touch screen vending machines that are designed to assist clients with their unique vision and goals. Vendpro is a proud distributor for TCN Australia of vending machines in Perth WA – supplying and servicing machines and parts.
Here at Vendpro we not only keep stock of the best quality vending machines, but as part of our endeavour to offer the best service to our clients, we only stock machines that we can service and supply spare parts for. Servicing and maintenance of the machines are done by our expert technicians to ensure your machine is optimally functioning to maximise your profits.
Our diverse range of vending machine solutions, which include drink vending machines, snack vending machines, elevator vending machines, coffee vending machines, and many more, are now being used in various establishments, such as hospitals, industrial sites, gyms, factories, offices, schools, airports, and many more. See more about TCN Australia here.
To help you choose the right quality vending machine for your business, we have compiled a Selection Matrix©.
At our office in Balcatta, Perth WA we have a variety of stock available and what we don't have, we can order in to meet your specific needs. At Vendpro, we stock only quality vending machines – new and refurbished – available at an affordable price and customised to suit your needs. Give us a call or come and visit our showroom today!