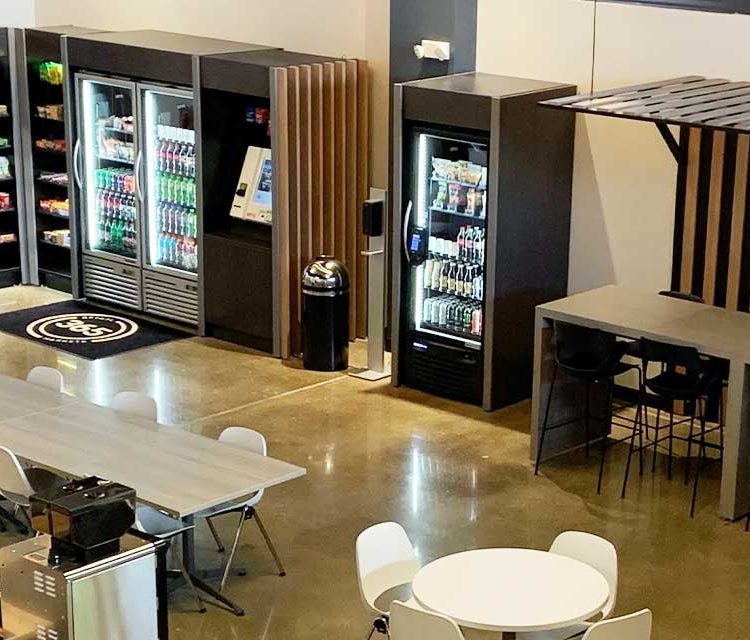 Managing the Operations, Logistics and Supply for organisations is no easy job. Employee satisfaction has never been more important, especially when you speak to human resource managers and the like.
More and more businesses are interested in providing excellent amenities for their team members and are clearly focused on the employee experience.
The COVID-19 pandemic had a profound effect on vending and micro market operations nationwide. Because of their ease of use and ability to deliver packaged fresh foods in a safe setting, micro markets enjoyed widespread adoption in open workplaces, replacing manual cafeterias in some instances. Most staff are now wanting pre-packaged food solutions as opposed to full-service cafeterias and self-serve salad bars.
So as workplaces reopen with fewer than normal staff on-site, this movement will continue to fuel micro market demand. Flexible working conditions and the need to socially distance from our fellow colleagues, means there needs to be a solution that is customisable, and affordable. A functional space where collaboration meets connection, especially in these current times.
Along with safer design options, micro markets in the workplace are a safer solution especially when complimented with best practices for remote monitoring, employee training, operations sanitation, including vehicles, facilities, screen cleaning, PPE stocking, hand sanitiser stations, food handling policies, appropriate consumer messaging and so on.
With this, the Operations, Logistics and Supply play a vital role. Where will the market go? Is there an existing lunchroom or breakout area which can be redesigned to install one? What will it be filled with? The future is leaning toward designs accommodating "grab-and-go" style sales replacing foodservice lines in sites ranging from factories to hospitality. The food will be made fresh, just minutes ago in many cases, and its available for a consumer to grab and self-checkout in a more touch-less, more distanced environment.
Customer flow then takes into consideration the spacial layout of the market. A thought through design allows for breathing space between fixtures and fridges, with markets designed to be compatible with an existing or a brand-new location. Finish it off with your branding and that's your unique differentiator and, the ultimate destination.The journey doesn't end there though. Adding to the consumer journey needs to be consideration of the stock, the merchandising, even the lighting. Although it may sound trivial, by reshaping the physical workspace, you will certainly improve employee engagement as every aspect works in synergy to create the ultimate experience. Therefore, these subtle changes lead to employees gathering more often, strengthening employee relationships, encouraging communication, and ultimately resulting in greater loyalty. Afterall, healthy Micro Markets provide desirable meals & beverages so that employees maintain somewhat healthy habits without having to leave the office or site all whilst adopted in a safe COVID-friendly manner.
That's when it all comes together.
---
365 Retail Markets Dream Market
Vendpro's technology partner, 365 Retail Markets, is the leading micro market technology company, and it's logical that the breakroom at their own office showcases the best unattended retail equipment and fixtures the industry has to offer, and in an attractive space. With that in mind, 365 Retail Markets redesigned its own micro market lounge at its new Troy, MI, headquarters. The remodelled dream micro market doubles as a showroom for visitors, as well as a training lab for operators and 365 employees.
365 created a neutral space with seven areas that will allow visitors to envision what could be built in their own spaces. The multifunctional market lends itself to company meetings, film and video shoots, and marketing and training sessions. It displays checkout kiosks, the Pico Cooler and mobile ordering apps, among other 365 micro market technologies. The micro market company teamed up with a breakroom engineering and design specialist, to design the new showroom.
This blog closes out our 'Healthy Markets' series. Get in touch today and let us help you on your micro market journey.