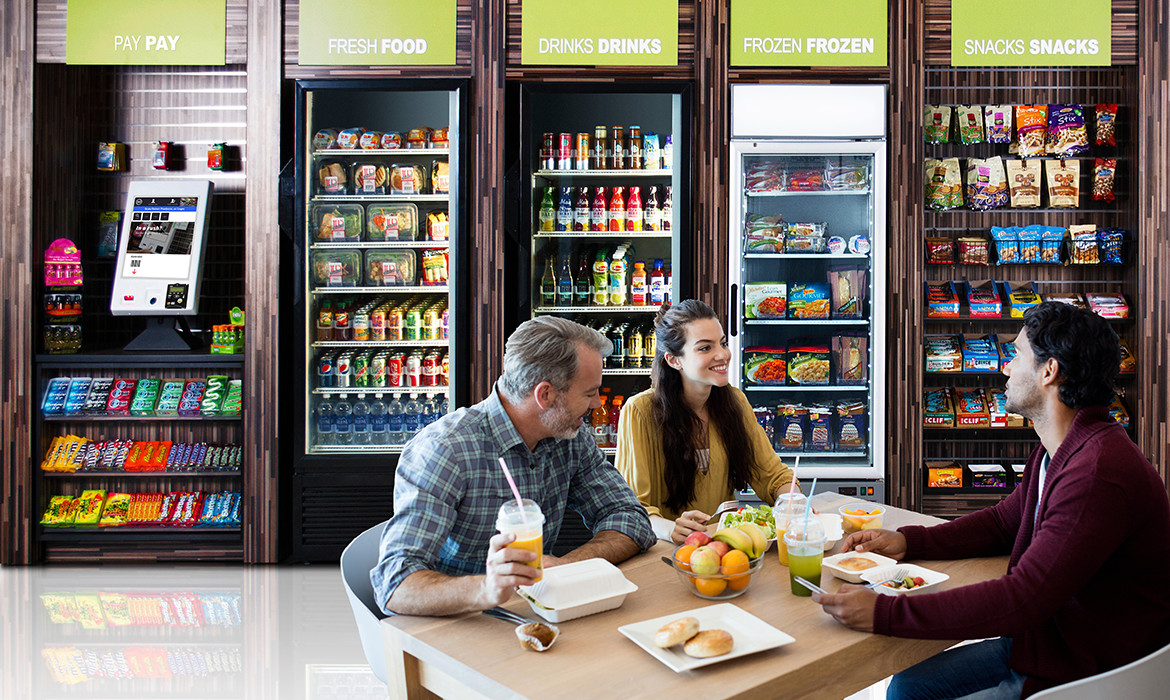 Micro Markets might seem like an alien thing in our world, but the reality is they're engrained in our everyday lives, already. And now more than ever, Healthy Micro Markets are on the rise.
In an ever-changing world where we long to connect but have the least contact; where we hope to catch-up with our friends, yet at a 2sqm distance; or grab a coffee with our workmates in person, yet within restrictions. We will, if we haven't already, come to appreciate our colleagues and take enjoyment in kitchen banter or random office conversations.
It's safe to say that COVID has certainly fast-tracked the course that we were already on, with the corporate acceptance of remote working the only significant change remaining. And whilst working from home has been beneficial, its prolonged effects have had their downfall, such as loneliness and discussions around mental health amongst many other things.
As is our reality at the moment, transitioning back to the office has been a slow one with some employers choosing to return their staff in stages whilst others will allow staff to elect whether they would like to have more flexibility and work from home as well as the office. The key theme post COVID-19 appears to be flexibility and Australian employers will need to adapt their workplace accordingly. In addition to this, there is a renewed focus on health and wellbeing where both staff members and employers alike are making wellness a key priority and where contactless access to nutrition dense foods as well as other healthy products would be a win win for all.
So, with the closure of most in-house canteens, cafes and restaurants during this COVID time, it would seem that our traditional way of having daytime lunch at work, will not be the same. But the question begs, how can these cafes reopen and adapt to the new way of the world, where flexible working arrangements are it?
Another course fast-tracked as a result of COVID-19 is that of Micro Markets (Healthy Micro Markets of course!). We may not have yet realised it, but self-service has already become entrenched in our everyday lives through that of supermarket self-service checkouts. They are quick and contactless – so why not!
And whilst traditional vending machines have been and continue to be a way in which companies provide their employees with a convenient means to access snacks and drinks (specially to satisfy that 3pm craving!), the regular consumption of such items would be considered unhealthy and as such a healthier way of eating – whether at work or home for that matter – is absolutely necessary.
Micro Markets are an open market concept, allowing staff to pick a product from an accessible rack display, or refrigerator and scan the item at a self-checkout kiosk. Direct from the US and now available in Australia, they are designed to offer a broad range of food and drink products which include fresh food such as salads, sandwiches and ready meals. No need for an attendant, the benefit of Micro Markets is that they are contactless, they are available 24/7/365 and the employer can ensure their staff have convenient access to healthy and nutritious foods. 
Satisfying those 3pm cravings has never been the same!
Fresh Food – providing fresh & healthy options  
Quality – products which are locally sourced and produced 
Convenience – ease of purchase, contactless payment
Having a Micro Market onsite means it will make it easy for staff to improve their eating habits through product selection and by convenience. The markets consist of coolers which can be stocked with fresh food and healthy meals, soups and salads. Coffee machines and microwave ovens within close proximity mean that winter's not so bad if you're in the office too!
Developing healthy thinking as the cornerstone of a Micro Market can ensure products that increase health and wellbeing, immune systems and cognitive function are at the ready. And although some  might feel they're not  ready for this kind of change yet, it's been implemented at mass – in other parts of the world, and already at locations on our East and West Coast – and it works! It'll just be a matter of time before it's the new norm for all workplaces across Australia .
This is part 1 in our 3 part Micro Market Series. 
In the coming weeks we will also explore the safety and freshness of Micro Markets, what it means to eat healthy and how this can be applied and managed in the workplace.