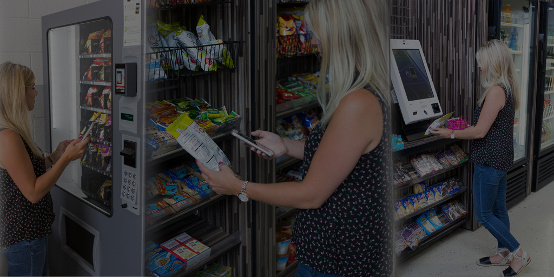 The shift from traditional Vending Machines to Micro Markets seems to be favoured, most definitely in larger corporations where health and well-being is a top priority.
When they first launched in the USA, 365 Retail Markets may have been slow to take off however today, they are a common fixture in most workplaces – from the traditional larger office spaces to smaller organisations where the markets can be suitably customised.It is no secret that Micro Markets can be a profitable business to the operators as well as at the same time, ensuring employee satisfaction is met by ticking the healthy, convenient, and fresh boxes to name a few. Add to that safe, contactless payment solutions such as the 365Pay App and 365Beacon, you have a winning solution on all accounts. 
It has been proven that Micro Markets play a major role in improving employee satisfaction and in an organisations ability to retain staff as it shows employees that their employer is not only interested in the work that they do, but the food and drink that they consume as well as their overall well-being. Staff feedback shows that healthy food options, a unique breakroom experience and a diverse product offering, is a great 'working' bonus.
But why not have the best of both worlds? Vending Machines and Micro Markets?
The question's been asked – will Micro Markets replace Vending Machines? The short answer to that is, no. Vending Machines are the original way of providing unattended retail to consumers and they will likely be around for many years to come. Perhaps the form they take may be slightly different to that of how they look now however there's no hiding that you don't exactly want to buy a salad from a vending machine!
Micro Markets, however, can address these limitations by not only providing convenience and variety in products to purchase, but also in the freshness of produce available. Above all this, the statistics don't lie; operators of Micro Markets can expect 18% more traffic and over 1.2 sales per visit, compared to 0.7 sales in a vending location. So those who replaced their vending machines with Micro Markets saw an average increase of 80% in sales. [As reported in Automatic Merchandiser].
Want to know the best part?
You can combine these two, wonderful offers. So, why not provide your customers and employees variety in product as well as the traditional snacks and drinks they love to grab and go. You can have the best of both worlds in a location that suits. Our team at Vendpro can help you design the best solution for your workspace, so let us take the stress out of that and help you and your business on the journey of a holistic approach to convenient food. Get in touch today!