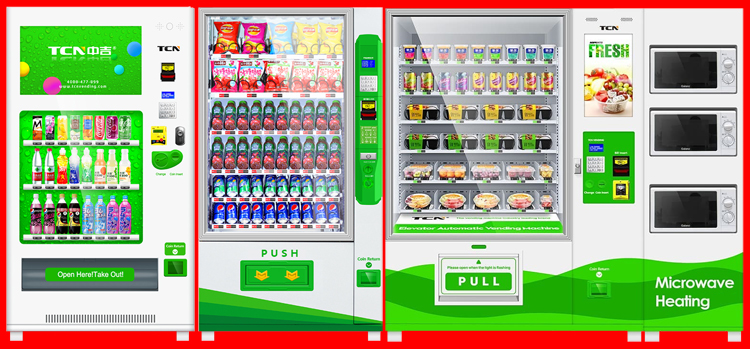 Every vending machine brand will claim to have it all, know it all, give its all… but only one vending machine brand (in our opinion) really does offer it all – the full range – at an affordable price … They are, TCN Vending Machines.

TCN Vending Machines have been around for a number of years, over 17 years in fact and TCN Vending Machines pride themselves on their international standards production line. 

The thing about TCN Vending Machines, is that they have it all at an affordable price – from the standard drinks and snacks vending machine to touchless, coffee, frozen and much more. You can start with one kind or grow your business to have all different kinds of machines and as they use the same internal parts, downtime is minimised because you have a local supplier who can always help (and of course the operation ease of only having one brand of machine to learn and operate!). 

Really? you ask. Can't be true… Well, let's delve into this a little bit more then… 

TCN Vending Machines are of a modular design, which means the accessories, spare parts or component assemblies are interchangeable and can be shared between the different models, even types of machines within the series. This means easier machine customisation to suit a particular customer or product need e.g., in terms of tray and selection possibilities and layout, different dispensing mechanism (e.g., coil, elevator and double conveyor or combinations thereof), advertising features (e.g., 22-inch vs. 32-inch vs. 43 vs.50-inch touchscreen options or multiple touchscreen), microwave integration and so much more. 

Imagine being able to provide a custom solution to your clients – that's service plus! 

The fact that TCN Vending Machines provided a standardised machine as well as components, means Vendpro can therefore hold fewer different spares in stock at any one time. It also means economies-of-scale are more achievable which results in reducing the cost of hardware, spare parts and labour for Vendpro and the end user alike. With increased availability and operating longevity of the TCN Vending Machines, plus the more cost-effective total over-life-cycle cost, the results will be a higher return on investment, for you and your business. It's a win for all! 

All sounds too good to be true right?! The good thing is though, it's true and it's here! 

Vendpro is proud to have the distribution rights for TCN Vending Machines in Perth, Western Australia. Our service levels compare to that of the best in the industry and most definitely the best in WA.  

When you purchase your vending machine from Vendpro, it doesn't just stop there. The phone support is unlimited, you will have a complimentary induction session on all machines sold as well as the option of additional training once your machine has been delivered. We have specialised technicians who can come out on site if the issue cannot be resolved over the phone – the list goes on, so you can read more here.

Why not come and visit us at our showroom and see for yourself. Our new TCN Vending Machines as well as our trusted Sorrento, Necta and Crane brands are on display and we will happily take you through and answer any questions you may have. Visit Vendpro.