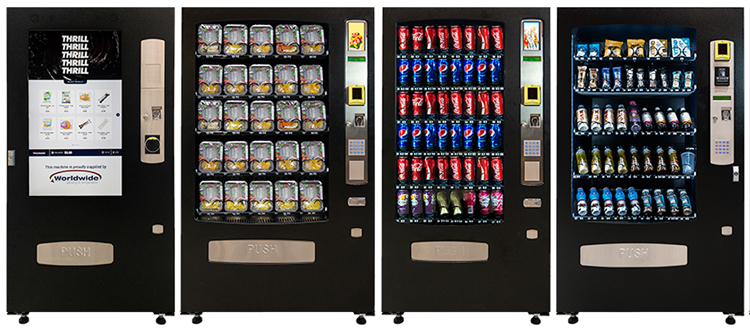 When it comes to reliability, one of the brands that comes to mind is Sorrento Vending Machines.
Sorrento Vending Machines come in many shapes and sizes, drink and snack combinations to snack or drink only, non-refrigerated as well as machines for the health and fitness industries. Most Sorrento machines are available in small, medium and large sizes, live product or glass front displays, some even have a video and photo display screen.
When purchasing a machine, the tray layout is important as not all machines are created with standard sizing in mind, especially if they are coming from overseas. Unique to Vendpro, the Sorrento Vending Machines are built to ensure all standard Australian sized bottles fit with ease. This means that the size of the tray chutes is slightly larger to allow for the standard bottle width – one of the things you can tick off your list as done!
Next, let's talk motherboards. All machines have them, but not all machines can have them upgraded – once you buy one you can pretty much consider it final. At Vendpro, we have ensured that our machines have their own, unique, upgradeable motherboard. That means all Sorrento Vending Machines are either already compatible or are always upgrade-able to suit the latest payment system requirements.
We pride ourselves on stocking only the best of the best vending machine brands, providing solutions that suit each of our clients' needs and requirements. And our commitment to you continues long after you have purchased your Sorrento Vending Machine. Our service levels compare to that of the best in the industry and most definitely the best in WA.
When you purchase your vending machine from Vendpro, it comes along with unlimited phone support, a complimentary induction session on all machines sold as well as the option of additional training once your machine has been delivered. We have specialised technicians who can come out on site if the issue cannot be resolved over the phone and the list goes on. Read more here.
Sorrento Vending Machines by Worldwide Vending
Worldwide Vending and Refrigeration is the leader in vending and commercial refrigeration solutions Australia-wide. They have been operating since 2006 and have perfected their offerings and customised solutions for their clients across the country.
Read more about Sorrento here.